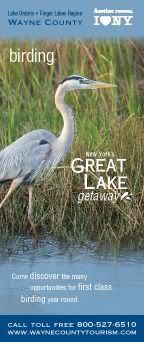 This is it. The time when hundreds of different species of migrating birds return to Upstate New York for nesting. Western New York, specifically Wayne County, and more specifically the Montezuma National Wildlife Refuge, is a bird-lovers paradise. This is from the I Love NY Newsletter, the Beat:
Hot off the presses and just in time for the busy migration season, the Wayne County Office of Tourism is now offering a comprehensive guide to assist professional and amateur birders find the songsters. The nine page guide book easily fits in your pocket or camera bag, and features 10 "Best Bird Locations" in Wayne County.

The back page is a map which easily directs you to each location. Some areas are directly in the Atlantic Flyway, while others are in the deep woods, where the elusive Veery Thrush hides. Bird watching is the number one hobby for outdoor lovers, and with this exciting and informative guide, you can now locate hundreds of birds in Wayne County.
The Montezuma National Wildlife Refuge is HUGE, and it's probably the closest thing to an American "safari" if there ever is one. The guide is free. The Refuge is a MUST SEE! For your free guide contact the Wayne County Office of Tourism at 800-527-6510, or email tourism@co.wayne.ny.us.