Golfing is BIG– just HUGE– here in Upstate New York. I'm actually a little surprised at how popular it is, especially when you consider that for half of the year we have snow on the ground! But within a 7 mile radius from where I live, I can instantly think of 6 golf courses!! And in nearby Vernon, NY, is the famous golf course at the Turning Stone Resort run by the Oneida Indian Nation (and where the PGA Championship has been held). That golf course has been called the Northeast's premier golf course.
There's a new golf course– a blossoming one– or all you golf fans. Perhaps you've heard of it: the Payne Stewart Golf Course. It's located in the Midwest entertainment capital of the country, in Branson, Missouri. Payne Stewart was from Missouri.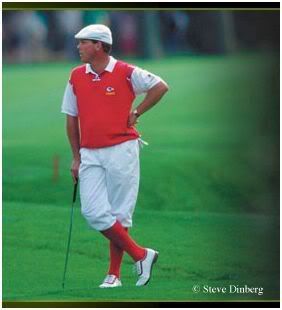 He was a rising star in the world of golf, but died tragically almost ten years ago when his jet plane crashed. Stewart was also well known for his stylish golf clothing when he played– he looks like a real Scotsman! The PGA Tour established the Payne Stewart Award in 2000, given to a player who shows respect for the game (as Stewart did) and who gives honor to the sport through professional conduct and dress. What a legacy!
The Payne Stewart Golf Course officially opened this month. It's a beautiful 7,319 yard, 18-hole course, designed by Bobby Clampett and Chuck Smith. Each hole has a special name, named for some important event or aspect of Stewart's life. I've seen photos and the course looks SUPERB. Of course, it's so fitting to be located in Branson (Branson Hills, precisely, situated in the gorgeous Ozark Mountains), where you can find the best of the best in entertainment and vacation attractions. The famous Hilton Promenade at Branson Landing is there, offering spectacular family-friendly prices and events.
So if you've got a hankering for some fine golf in a gorgeous location, and a desire to play in a part of history and legacy, check out the Payne Stewart Golf Course. You won't be disappointed!