The New England Hurricane, also called the Long Island Express, or the Great Hurricane of '38 (this was before hurricanes were given names), is still in the record books as one of the most damaging hurricanes to ever strike the U.S.
With the news that Hurricane Earl is starting to chug up the Eastern seaboard of the United States, I am reminded of another, more dangerous hurricane that hit New England on September 21, 1938. Like the Titanic disaster or 1912, there were a number of small warning signs that, if heeded, could have avoided such a terrible tragedy.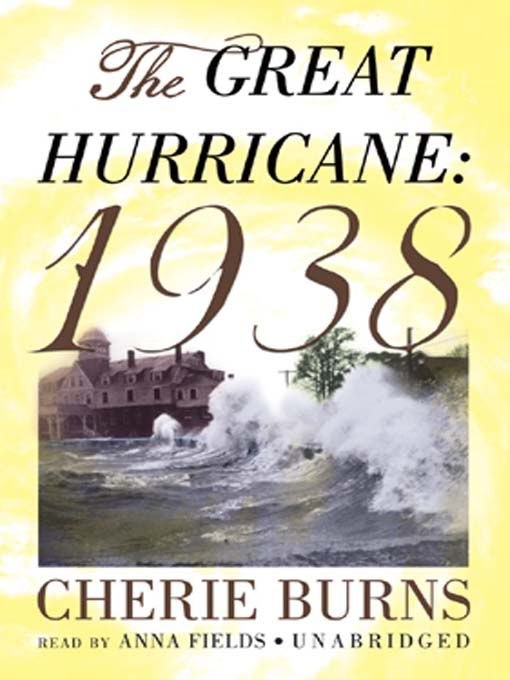 The sad thing is that while people in the South know the warning signs of hurricanes, and are able to prepare, the North hadn't experienced a hurricane since 1869 and had no idea of what to do. In 1938, there were no weather balloons, no weather satellites, and no weather buoys. And what's worse, not even the weathermen suspected it.
The hurricane began as a tropical depression west of Africa sometime before or around September 13th. It crashed into the Bahamas on September 20th, registering as a Category 5 storm. U.S. meteorologists knew the storm was drawing near to the United States, but according to their calculations, they predicted the hurricane would move eastward out to the Atlantic Ocean. The cold waters of the North would grind the storm into a rainshower. All the meteorologists agreed with this prediction, except one young man: Charles Pierce. He was the new guy, who had been studying the movement of this storm carefully. He concluded that the hurricane was tracking due north and west, and would strike New England. The senior meteorologists noted that the hurricane had lost some of its strength– it had been downgraded to a Category 3 and was about 150 miles east of Cape Hatteras, North Carolina. They vetoed Pierce's suggestions and called for a forecast of cloudy skies and gusty conditions. Little did they know that almost precisely as they sent out their weather notices, the hurricane swirled monstrously, fed by the warm North Carolina waters, and gathered up every ounce of its strength to strike New England in a matter of hours.
Up in Long Island, New York, September 21 dawned humid and uncomfortable. Here the population was still relatively low and houses were more like wooden shacks on stilts. News traveled slowly. The local paper, The New York Times, was full of Hitler's intentions toward Czechoslovakia. Buried in the newspaper was a small story about Florida's close call with a hurricane, and how the "admirably organized" meteorologists had been correct that Florida would be unscathed.
Wizened fishermen of Long Island watched their barometers go beserk. They could tell a storm was coming, perhaps a big coastal storm, so some of the men decided to haul in their lobster traps. They docked their boats at the piers and some checked the weather news forecast: cloudy skies and gusty conditions. Against the better judgment of some, they let their children go to school and their wives to their sociables and picnics.
Arthur D. Raynor of Westhampton, a young lad of 18 that year, wrote:
If you had already been advised that Long Island was close to perfection on earth, that we had no worries about floods, earthquakes, hurricanes or other natural disasters that had befallen other unfortunate parts of the earth, the chances are pretty good that you could have gotten fooled on the 21st day of September, 1938.

Only a few months before, the local theater had shown a saga called "Typhoon," and among the things I had gotten out of that was an observation by one of the characters in the movie that "the birds were acting peculiarly." They were portrayed (how do you get a flock of wild birds to act?) as being excited, nervous, anxious and so forth. Not being an avid bird watcher, I couldn't really tell if our birds were doing the same thing that day around lunch time, but it was close enough for me to mention it to my Grandmother, and her Mother, a visitor at the time. And you could have bet money on the reply. "One thing you never have to worry about on Long Island is floods, hurricanes, earthquakes and all those other things everybody not smart enough to live here worry about."

There was cause for worry.
Unfortunately for the Northeast, September 21 was experiencing three phenomenon: the Autumnal Equinox, a full moon, and unusually high tide. These are not unusual occurrences, but combined together that day, they set the stage for the hurricane that would double the damage expected.
Arthur was out and about with his friend, John. They had been driving John's new Chevy and watching movies at the cinemas all day. Sometime before 3:30, when the hurricane hit Long Island full force, Arthur said:
As we started down the hill at Oneck Lane, about three feet of water shot across the road in front of us, pushing leaves, twigs and all sorts of debris in front of it. We stopped short of it to smell it. It smelled like "ocean" to me. If we try to go through it and stall, we still have Beaver Dam Creek between us and my house … John wants to try it-after all, it's a tall Chevy. It wasn't tall enough. The carburetor sucked in a mouthful of water and the thing just quit. When we opened the doors to get out and push, the Atlantic poured in on John's side and out on mine. Pine trees were crashing around us like so many match sticks, but none across the road … yet. The two of us pushed that thing out of the water and up the hill far enough to clear the engine. With full choke, the thing cleared out the water and fired back up, and we turned 180 degrees and got out of there.
The hurricane slammed into Long Island, rattling the earth enough to register as an earthquake on seismographs 3,000 miles away. It devoured entire beach communities, whisking away people and property with its salty arms.
The force of the hurricane sliced Long Island in half, removing tons of sand from the island and forming what is now knowm as Shinnecock Inlet. The waters dumped cars, houses, and people into the hole it left behind.
Most of the day shift [of the Coast Guard on the Island] had run up and down the beach trying to get people to leave, but without much success. Folks had been seeing these "line storms" come and go for years. Many had seen storms bad enough to tear a house down … a house … not ALL the houses. There was not a single board found of the Coast Guard Station those fellows had come from. The predominate guess was that the incoming waves loosened it up enough for the outgoing water to take it to sea. A lot of buildings that were on the beach were loosened up with the incoming waves and rode them over to arrive on the mainland of the Island in various modes of destruction.

Grandfather had watched some of the wreckage come down the creek, slam into the South Country/Beaver Dam Bridge until one big piece wound the bridge to the open position. This might have been what John and I could have driven into if we had gotten through that first trough of water that stalled us out. One of the houses was being ridden by one of the King girls, whose folks owned the Hampton Chronicle. She got off at the fish house long enough to see the bridge open, then dove back in to ride the next piece of house nearer her home. Both her parents were lost, we were told.
A U.S. Coast Guard station on Long Island had measured a minimum pressure of 27.94 in on his barometer. Storm surges were estimated 10-12 feet above tide for Long Island.
The hurricane was not yet done. It was roiling toward Connecticut, Massachusetts, and Rhode Island, where it would inflict its most damage. When it was all over, at least 688 people were killed, 4500 injured, and over 75,000 buildings damaged. The rising waters would flood inland cities with up to 20 feet of water, with 40 feet of coastal waters.
I continued the story; Read Part Two here.
P.S. Hurricane Donna of 1960 and Hurricane Floyd of 1999 followed the '38 Hurricane's path very closely.