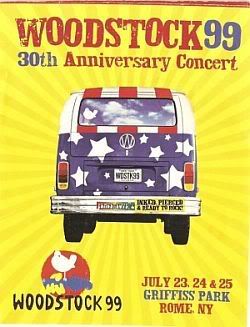 The local media is excitedly hailing the "anniversary" of the world's worst outdoor concert event second-largest concert event, Woodstock. It was held here in Rome, NY, this week, ten years ago.
The further away this Upstate NY scourge gets from us, the better. What a disgraceful, ugly spot on the historical annals of an other wise noble city, Rome, NY. Once known as the area (in nearby Oriskany) of the fiercest battle for liberty during the Revolutionary War, it's known today as the site of the lascivious psychedelic drug orgy for the nation. OK, I'll be fair– there was music there, too. Woodstock– the foci of all that's wrong with the Baby Boomers and the Gen Y generation.

Litter photo courtesy of osufan77 at media.photobucket.com/image/woodstock%2099/osufan77/Woodstock%2099/Woodstock4.jpg?o=54.
P.S. Aren't these people the same that are always pushing everyone to "be green"?!